---
Ukážky z lekcií
Rozhovor
Počúvajte texty. Listen and follow the texts.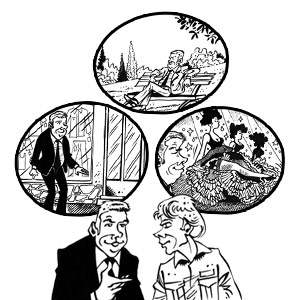 1.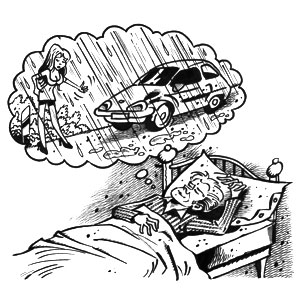 2.
1. Tom's trip to Edinburgh
Yesterday I met my neighbour, Tom, and he told me about his trip to Edinburgh. Last week he went to Edinburgh for two days. He went there by train from Leeds. And it took him two hours. He stayed at a hotel in Queen Street. When he arrived, it was cold and rainy. But the hotel was warm and comfortable. When he woke up in the morning it didn´t rain and it was quite warm. He got dressed and had a good breakfast. Then, he walked down Queen Street and looked at the lovely shops. In the afternoon he visited the castle and enjoyed sitting in the gardens. In the evening he didn't go out, but he stayed in a hotel restaurant and talked to a couple from Amsterdam. They drove to Edinburgh and it took them quite long. The other day he wanted to go to the Edingburgh Arts Festival. This is a magnificent event which attracts visitors from all over the world every year. He was lucky that there were a few tickets left in the box office. He bought a ticket for a cabaret show. It was an excellent performance and he liked it very much. After the performance he caught the 22:15 train to Leeds and came home before midnight. Tom recommended me to make such a trip and I started to think about it.

2. I had a bad day
Everything started during the last night when I had a strange dream. I dreamt that I was in a very fast car, driving along the road in England. It was a foggy day and I coudn't see very well.Then suddenly I saw a woman standing in the middle of the road. When I stopped, she got into the car and told me to go to Chester. It was difficult to understand her, because she had a strange accent. She started to sing, and then she looked at me and smiled. I asked her name, but she didn't answer. She smiled again, and kissed me on my cheek. Then I woke up. I woke up late because I didn't hear my alarm clock. When I got out of bed I put my foot on a teacup standing by the bed. How did it get there? Perhaps somebody who doesn't like me put it there while I was asleep.There wasn't much time. I started a new job in Bristol and I didn't want to be late. So I cleaned the tea off the carpet and got dressed as quickly as I could. I got into my car and went to Bristol. It didn't rain. And I felt quite happy and was looking forward to my new job. After ten minutes driving it happened. I saw a woman standing in the middle of the road. It was the woman from my dream. But was it a dream….? I didn't know.

---
Prihlásenie
Informácie a ceny
Odkazy
Preklad - preklady textov, úradné preklady, tlmočenie - Lexika.sk